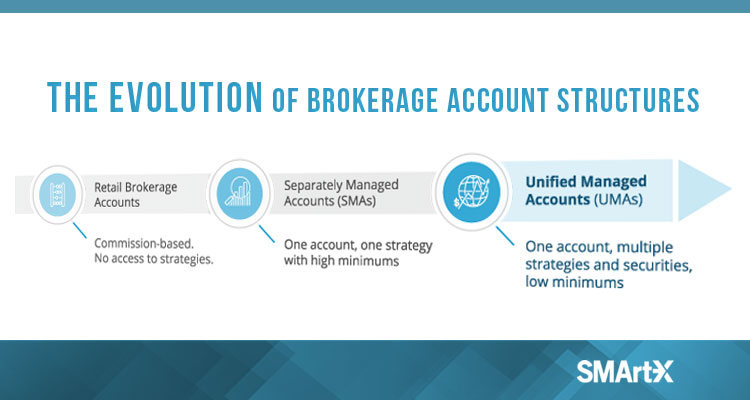 UMAs are the Modern Day Evolution of Brokerage Account Structures
Unified Managed Accounts ('UMAs') are the result of an industry that originated with brokers opening commission-based accounts with no access to third party managers which then migrated to SMAs with relatively high minimums and only one strategy. UMAs were inspired by an industry seeking greater transparency, better information flow, and increased ease of use, all with lower administrative burdens, and are being adopted at an increasing rate. So how are these structures helping advisors run their business more efficiently?
The inherent nature of an UMA enables advisors to open a single account and allocate capital to multiple third party investment strategies, as well as individual securities. Historically an advisor would have to open an individual account for each one of these strategies, and then consolidate the performance and holding information in another program. This functionality:
Reduces the administrative burden of opening multiple accounts for the same person
Eliminates the need to trade each one of these accounts individually
Simplifies the process of reallocating capital across strategies and securities
Provides a holistic approach to money management
Consolidates proposals into a single set of documents
Streamlines the billing process
Modernizes account rebalancing and tax-loss harvesting
Unified Managed Accounts are the evolution of the brokerage account industry. Advisors are now able to reduce a significant portion of the administrative burden associated with managing client accounts while realizing the additional benefits of having client assets centralized in one location.